Fantasy
is filled with mythological creatures. But how well do we really know them? Who, off the top of their head, can define the difference between
phoenix
and a
thunderbird
?
No one? Okay, then let's start a new blog series on . . . you guessed it. Mythological creatures!
Phoenix
If you've read Harry Potter, then you have a good idea what a phoenix is. This mythological bird regenerates from its own ashes every time it dies. According to greek mythology, it's associated with the sun and fire. The phoenix could be as large as an eagle and generally has scarlet and gold feathers, emitting rays of pure sunlight.
The cry of a phoenix is described as "melodious" and, in the Harry Potter series, the bird can carry a great amount of weight and has healing tears.
Interesting "facts" about the phoenix:
It could live over 1400 years before rebirth.
Different cultures have their own interpretations of the Phoenix — the bennu (Egypt), Feng Huang (Chinese), the Huma (Persian), the Garuda (Oriental), etc.
A phoenix doesn't just burn up and die when it's old. It creates a nest of aromatic boughs and spices, sets it on fire, and is then engulfed in the flames. At least it smells nice!
Only one phoenix can exist at a time. (Loneliest love-life ever…)
Thunderbird
The thunderbird originates from Native American mythology and is, apparently, gigantic. It gets the name 
thunderbird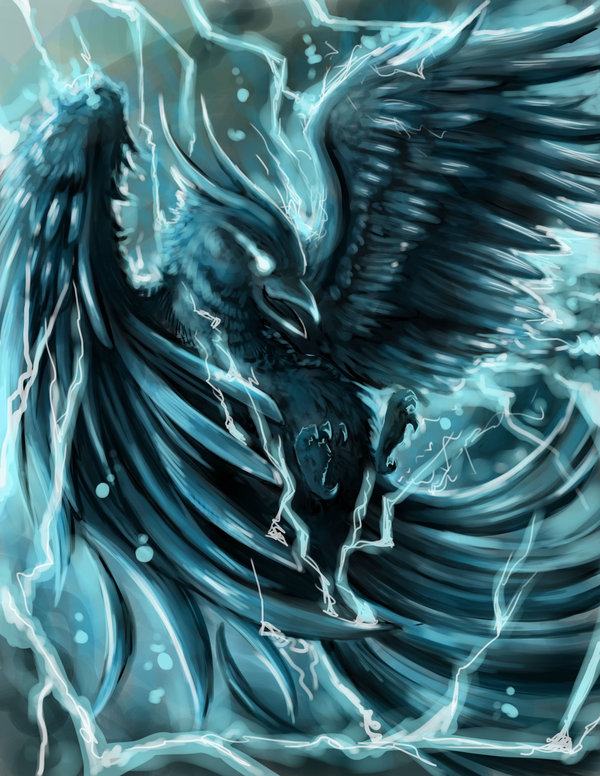 because every flap of its wings causes a clap of thunder (this gives you an idea of its size.) Thunderbirds bring rain and storms to the land.
They are vengeful hunters, fond of killer whales (for breakfast, lunch, and dinner) but even carrying off children for an afternoon snack (aka: villain bird.) Thunderbirds cause storms and are known to show up before a natural disaster strikes. Sheet lightning flashes from its eyes when it blinks, and the creature carries golden snakes to cause individual lighting bolts.
Interesting "facts" about the thunderbird:
It can assume human form and then remove its feathers to use as a blanket.
It's large enough to hunt small whales individually
The thunderbird is often described and depicted as having teeth within its beak
So who do you would think would win in a battle, the phoenix or thunderbird?
Have you used or seen either of these creatures in a novel?