Fun frightens me a bit. As a product of a strong work ethic from both sides of my family, I grew up believing that all work must be completed before indulging in play. Since the work never seemed to end, a time for play rarely felt appropriate. Even when I worked hard enough to earn a little relaxation, I tried to justify this free time to be sure it wasn't "wasted," by focusing on activities that were educational or strengthened me for more work.
Because of this predisposition, when I've spoken about the value of fantasy and science fiction, I've focused on what it can achieve: the rich symbolism, the powerful theological concepts that can be conveyed, the life-changing images that can inform our journey. I felt compelled to emphasize direct intellectual and spiritual benefits in order to defend the benefit of time spent reading novels.
Affirming the pragmatic value of reading fiction can be useful to counter naysayers. For example, studies show reading novels may increase empathy. That's the sort of fact that can help me feel virtuous about my crowded bookshelves.
https://www.washingtonpost.com/news/speaking-of-science/wp/2016/07/22/does-reading-fiction-make-you-a-better-person
But let's be real. Fiction is also fun!
Part of the appeal of speculative fiction is the fun of sword fights, and strange settings, and imaginative creatures. Or time travel, alternate universes, and mind-bending inventions. In a real world of clamoring conflict and soul-crushing burdens, a visit to an invented universe can give our minds a safe place to play.
During a particular tough season of life full of health issues, financial setbacks, and broken cars, I invited friends from church to play a Star Trek Next Generation mystery-solving game. We all wore costumes and I used gelatin to make Klingon gagh. The laughter and play distracted me from my struggles. Mere escapism? Maybe. That's how many view reading novels. But it was childlike fun. After playing a character in another time and place, I returned to my real life with a fresh perspective.
The daily grind can give us tunnel vision. We push against obstacle after obstacle until all we see are the problems. Recreation can "re-create" our souls. When we try on a different world and a new story, we find new parts of ourselves and bring new ideas to our experience.
For many years, I had another issue that held me back from fully embracing fun. Because of the great needs in our world, and the Great Commission of our Savior, (www.biblegateway.com/passage/Matthew2028:16-20)
I carry a sense of urgency to share the Gospel. Not a bad yearning. But after growing up memorizing verses about making the most of the time, I developed a very driven focus to life. I lost sight of the truth that Jesus is the One who has provided salvation. I subconsciously pressured myself to be a "savior" to the world, endlessly working for His Kingdom. I never articulated it, but it was as if I thought that without my striving and efforts, His plans would fail. When we feel the weight of the world on our shoulders, we've set our shoulders in the wrong place.
I have come to realize that fun is a gracious gift from God. He invites us to experience the joy of play and exploration—time that doesn't have to be pinpointed as "useful." Being willing to have fun is a brave acknowledgement that God can run the universe without us. He is not frantic, desperate, or stressed about His plans and purposes. He created us humans with a need to stop and eat, to sleep, and yes, to imagine, dream, and engage with stories beyond our practical lives.
I no longer feel quite so defensive about enjoying speculative novels. A baldric and sword rest in my closet. A banner representing a clan in my novel The Restorer hangs in my office, a gift from a reader. I sip my tea from a mug that another friend gave me because it reminded her of the Sword of Lyric series. My shelves sag under the works of Lewis, L'engle, Tolkien, and Lawhead, as well as various Star Trek and Star Wars novels and many Enclave authors. Why? Because they are fun.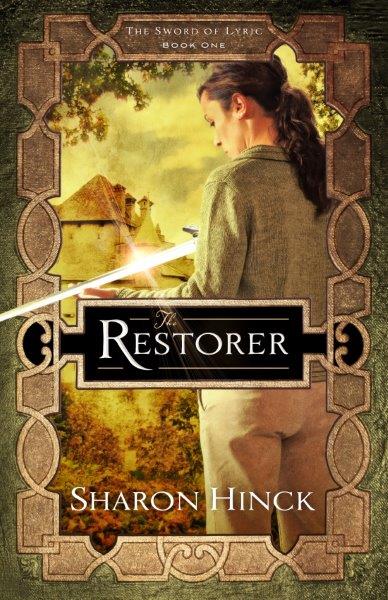 Still uneasy about the idea of fun? Look through Scripture for the many references to feasts. Jesus even describes heaven as a wedding feast. These feasts aren't about meeting the pragmatic need for food. They are about fun! Since our Savior hints that heaven will be fun, I'm happy to begin practicing now.
Join the conversation: What are your favorite fun elements of speculative fiction? Do you ever struggle with the concept of play and fun and recreation? Have you been scolded by others for loving fantasy and science fiction?
***
Sharon writes "stories for the hero in all of us" – uplifting and entertaining novels about ordinary people called to extraordinary challenges.
She's won several Carol awards for both contemporary Christian fiction and fantasy, and was a Christy finalist for The Restorer – a genre-blending adventure of a soccer-mom in an alternate world.
She holds an M.A. in communication, and worked for many years in arts ministry. In her various roles over the years as wife, mom, grandmother, church worker, choreographer, and writer, she has loved learning how God's grace pours into our lives in the midst of our weakness.
When she isn't wrestling with words, Sharon enjoys speaking to conferences, retreats, and church groups. She and her family make their home in the mid-western United States.