Here is the next installment of past interviews with Christian speculative authors over at wherethemapends.com.
Please Welcome…R. E. Bartlett
(*Originally posted November 2008)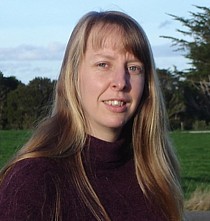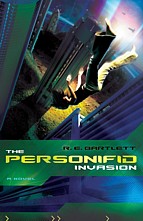 What a joy to have Christian speculative novelist R. E. Bartlett as our interview guest this month at WhereTheMapEnds.com.
R. E. (Ruth) is a New Zealander living in the North Island. She has written many Christian speculative novels, two of which have thus far been published: The Personifid Project (Realms) and The Personifid Invasion (Marcher Lord Press).
I've had the honor of knowing Ruth since 2004. When I was doing the acquisitions reading for the launch of Realms I came across this plucky Kiwi who had written a ton of Christian SF and fantasy novels. I began reading The Personifid Project and became convinced it was one I wanted to launch Realms with.
And when it came time to find the debut novels for Marcher Lord Press I thought again of that selfsame Kiwi, largely because I knew she had the sequel to The Personifid Project already written and the premise of it sounded at least as good as the first one.
It seems I can't launch a publishing venture without a novel by R. E. Bartlett!
Here's a story to give you a taste of Ruth's sense of humor. When we were finalizing the publishing contract for The Personifid Project at Realms, Ruth sent me a handwritten note in which every word was misspelled. I thought, Who have I just acquired? What have I done?
Wry, I think. Subtle and tricky.
Ruth is a fine writer who has all sorts of strange story ideas cavorting about in her head. Just the kind of person who belongs here, off the edge of the map.
So without further ado, here's the interview.
WhereTheMapEnds: What is your favorite speculative novel of all time (Christian or secular) and why is that your favorite?
R. E. Bartlett: Out Of The Silent Planet by C. S. Lewis. Lewis's world is very real and absorbing. The hrossa and sorns are beasts I enjoy encountering time and time again.
WhereTheMapEnds: What made you want to write Christian speculative fiction?
R. E. Bartlett: Because it would be terribly hard for me to write Buddhist speculative fiction! Seriously, I want to write SF because I like the genre that allows the imagination free rein. The Christian aspect comes into it because that is what I am.
WhereTheMapEnds: Ruth, what is your favorite speculative genre to read? To write? If they're different, talk about that.
R. E. Bartlett: Fantasy to both questions. The creativity from people's minds can be astonishing.
WhereTheMapEnds: How would you characterize the current state of Christian speculative fiction writing and/or publishing?
R. E. Bartlett: I'm probably the wrong person to ask. I've seen very little of it. I'm the kind of reader who has avoided Christian fiction as a whole, because of its poor reputation. Oops!
WhereTheMapEnds: Well, have you seen anything that encourages you about Christian speculative fiction writing and/or publishing?
R. E. Bartlett: I think the fact that there are a number of SF fans coming together on the Internet, talking about Christian SF and wanting to see more of it. Hopefully if they grow in size and get loud enough it will encourage publishers to give them more of what they want.
WhereTheMapEnds: Well, they've got a great opportunity to do that. All they need to do is flock to Marcher Lord Press and buy The Personifid Invasion and the other two debut books by the thousands. That will certainly send a message throughout the CBA. So, what have you seen that discourages or frustrates you about Christian speculative fiction writing and/or publishing?
R. E. Bartlett: My experience has been that Christian publishers require a level of overtness, or preachiness, that I personally dislike.
WhereTheMapEnds: Yes, there's a sense in which publishers sometimes feel they have to baptize their speculative fiction by overcompensating with the gospel. "Yes, ma'am, it's weird, but it shares the entire plan of salvation, not just a bit. That alone should give it the right to be one of our books." Some of this also is an effort to comfort booksellers who are still skittish about "fantasy" novels in a Christian bookstore. What's the best speculative story (Christian or secular, book or otherwise) you've encountered lately?
R. E. Bartlett: I recently read Howl's Moving Castle by Diana Wynne Jones. I'm new to her work, but find her story worlds and humour entertaining. I tried watching the movie version, but it made me wriggle and utter loud noises of disbelief. I hear you have to be a Miyazaki fan to appreciate it.
WhereTheMapEnds: So, Ruth, what advice would you give to someone who aspires to write and publish Christian speculative fiction?
R. E. Bartlett: Practise your writing. [Editor's note: That's practice here in the States, ya Kiwi!] It's all very well to aspire to something, but if you don't get off your caboose and actually do something about it you'll get nowhere.
WhereTheMapEnds: Good advice for all of us.
That's All for This Time
What a wonderful interview, huh? Thanks again to R. E. Bartlett. Be sure to visit Ruth online.