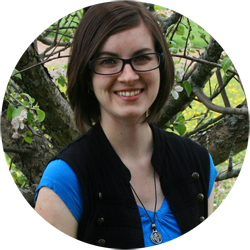 Today we have Jaye L. Knight with us! Jaye is an award-winning author, homeschool graduate, and shameless tea addict with a passion for Christian fantasy. Armed with an active imagination and love for adventure, Jaye weaves stories of truth, faith, and courage with the message that even in the deepest darkness, God's love shines as a light to offer hope. She has been penning stories since the age of eight and resides in the Northwoods of Wisconsin.
Welcome Jaye!
1) Everyone seems to have a "how I got published" story. What is yours?
I published my first book at eighteen just after I graduated. I did it through a self-publishing company because I pretty much had no idea what I was doing. I just knew I wanted to publish and that seemed like the only option. At the time, I was writing under the pen name Molly Evangeline. There was so much trial and error involved, but I learned a lot from it. I set up my own imprint, Living Sword Publishing, and dedicated myself to learning all the ins and outs of indie publishing. Then, in 2013, I decided to change my pen name to Jaye L. Knight as a fresh start. It turned out to be the best thing I ever did.
2) When did you realize you wanted to become a writer?
I've been writing since I was eight years old. It has always been one of my favorite pastimes, but I didn't decide that I actually wanted to be a published author until I was about fourteen. It was shortly after I discovered The Lord of the Rings, and I realized I wanted to be an author like Tolkien.
3) Tell us a little about your books.
I started out writing historical fiction, but then switched over to fantasy. My current books under Jaye L. Knight are part of a six book fantasy series called Ilyon Chronicles. I just published book three, Samara's Peril, on May 13th. The entire series centers around half-blooded former gladiator named Jace. He starts out the series wondering if he even has a soul and if God could ever love someone like him. I wrote the books to tell his story and how he overcomes his struggles and questions. There are also a lot of external struggles for him and my other characters because they live in a country where the emperor is trying to eradicate the worship of Elôm (God) and conquer their known world.
4) What are some of the strongest influences on your writing?
I am highly influenced by visual inspiration. Movies/TV shows probably have the strongest influence on my writing. So many seeds of inspiration for characters and plots come from that. But there are also books, of course. Ilyon Chronicles was actually inspired by DragonQuest by Donita K. Paul. That's where the inspiration for Jace came from and it all grew from there.
5) Who are your books aimed at? If applicable: What are some of the challenges of writing for your audience?
I'm writing Ilyon Chronicles specifically for late teens/twenties new adults. I'm a big fan of YA fiction, but sometimes (being in my twenties) I kind of wish some of the characters were closer to my age. I could just read adult fiction, but I enjoy the feel and adventure of YA. I think new adult fiction is the perfect in between. It still has the YA feel, but with older, more mature characters. That has been my focus with Ilyon Chronicles. I think the challenge mostly comes with how to market it. NA fiction has a bad stigma of being highly inappropriate, so attaching that label is sort of risky. There's also the challenge of tackling some more mature themes. I'm always careful to handle them appropriately, but everyone's tolerance levels vary so greatly that it can be a challenge to hit the right balance. Especially since I've noticed that my books are many times assumed to be YA.
6) What is the one author, living or dead, who you would like to co-write a book with someday, and why?
Ooh, that is really tough. I have so many I could choose from. Narrowing it down, I think I would have to say R.J. Larson. I completely fell in love with her Books of the Infinite series, and I think I developed a lot of my writing style from them. She writes some of the most amazing characters (I'd marry her character Kien right here on the spot, lol!). And since I just love fictional characters, I think I would love to co-write a book with her.
7) If you could have dinner with three people, living or dead, who would they be?
Joseph (from the Bible). He would be a definite choice. Then Jedediah Smith, the mountain man. I'm a huge history buff, and I've always been fascinated with him as a person. Lastly . . . I'm going to say John Cooper from the band Skillet. I met him (very briefly) in an autograph line, and I just think he would be so much fun to hang out with. Oh look, their names all begin with J. I think I have a subconscious obsession with the letter J.
8) What do you want readers to take away from your book?
Though I never consciously made this decision, one of the key themes in all of my books is that even in the very worst of circumstances, God works all things together for good. That is something I have had to cling to through many times in my life, and I hope readers will be encouraged to do the same.
9) What can you tell us about any future releases you have planned?
Well, there are still three more books coming in the Ilyon Chronicles series. That will keep me busy for a while. After that, I might step into the realm of fairy tale retellings. I have a story that seems pretty instant upon being written. I only have one book left to write for Ilyon Chronicles, so it won't be too long before I can branch out into other possibilities.
10) Favorite season?
I am a total summer girl. If I could just pick up my life and settle it down somewhere that is warm all the time, I would. I so do not like the cold. I love cute t-shirts, a pair of jeans, and bare feet. You can't do that during a Wisconsin winter.
11) Do you have a favorite Bible verse?
Psalms 46:10, Be still, and know that I am God; I will be exalted among the nations, I will be exalted in the earth! One of the biggest things I've had to learn in the last few years is to be still and know that God is in control. No matter what does or doesn't happen, He has a plan for my life.
12) Do you listen to music while you write? If so what are some examples?
I don't actively listen to music while I write, but music plays a big part in brainstorming my books. I love to listen to epic movie trailer/soundtrack music. I have a lot by artists like Audiomachine and Future World Music. Many times, I'll choose theme songs for each of my characters that really help me figure out who they are.
13) Does anyone else in your family have musical/writing/artistic skills?
My mom is also a writer. She started writing when she was a young teen and passed on her love for it to me. My middle brother is definitely more on the artistic/musical side. He learned to play guitar when he was younger and he is also really into ceramics/pottery and photography. I definitely come from a very creativity oriented family.
14) What is one thing you've read that you wish you had written, and why?
The Stormlight Archive books by Brandon Sanderson. They are so epic! And I LOVE his character Kaladin. Kaladin is exactly the type of character I love to write about. Broken, tortured, abused, but such a good heart.
15) Who would you most like to thank for their involvement in your writing career?
My mom. For one thing, I might never have even had any interest in writing if I had not seen her having so much fun with it. And I never would have had the time to develop my love for writing if she had not chosen to homeschool me. She is also my greatest support through the entire process. So much of it of the writing/publishing process can be so difficult, but she is such an integral part of it, whether it's helping me sort through plot issues, listening to me rant, or just fangirling over characters.
***
Thank you, Jaye, for joining us today! Here is where you can find her online:
website, blog, Facebook, Google+, Twitter, and Etsy.