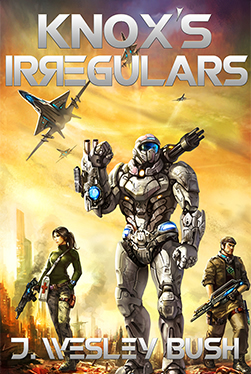 Knox's Irregulars
$12.99 (pb) - ebook $2.99
These fanatics … think in slogans and talk in bullets. "Such men can't be reasoned with, only fought."
About the Book
Randal Knox never wanted to be a leader. But as the firstborn son of the Prime Minister, he seemed fated to a life in politics. Fleeing his family plans, Randal enlists with the armored= infantry, thinking he'll be safe on the snowy border with neighboring Abkhenazia.
When followers of the Prophet take control of the region, his haven turns into a slaughterhouse. A vast army of zealots invades New Geneva routing its tiny defense force and sending the remnants fleeing for their lives. Knox is forced to take charge of a small band of survivors, sheltering them in the mountains.
Knox has a choice. Will he hide safely in the catacombs beneath the city or embrace his calling as a leader? It could take everything he has, including his life, to save his people. The militia is scattered, his only allies are a turncoat Abkhenazi, a mad Belorussian immigrant, a beautiful but rookie medic, and a handful of armored infantry.
Disclosure of Material Connection: Some of the links in the page above are "affiliate links." This means if you click on the link and purchase the item, I will receive an affiliate commission. I am disclosing this in accordance with the Federal Trade Commission's
16 CFR, Part 255
: "Guides Concerning the Use of Endorsements and Testimonials in Advertising."