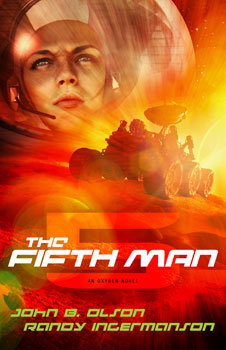 About the Book
Valkerie Jansen is tough, beautiful, and being pursued by every man on the planet. Literally. The planet in question is Mars, with a total population of four. 

When Valkerie discovers evidence of past life on Mars, she becomes an instant celebrity on earth. After she comes down with a mysterious infection, NASA worries that it's not safe to bring the crew back home. 

Then Valkerie is attacked by someone — or something — that can't possibly exist. Everyone but crewmate Bob Kaganovski thinks she's hallucinating — and even Bob seems to be wavering. 

Is Valkerie's "fifth man" real? If not, then who or what is trying to kill the crew? 
About The Book
The Fifth Man is the sequel to Oxygen — a witty, multi-award-winning roller coaster ride, with a plot that moves at the speed of light and enough geek romance to set your Bunsen burner ablaze. 

If you've ever wanted to drive a Mars rover, experience love on an alien planet, or ferret out which of your friends is trying to kill you, then check out The Fifth Man. 
Bonus Material: Practical Advice on Writing a Novel
This is the second edition of The Fifth Man, released in May, 2012. This "Writer's Journey" edition of The Fifth Man contains three bonus appendices (over 60 pages!) for fiction writers and anyone interested in getting the inside scoop on how John and Randy develop their stories. Learn some of their most powerful techniques, including story drivers, high concept, and scene structure.
Book Reviews